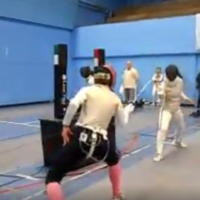 Birmingham International 26/03/2016
First fencing competition of 2016 and it feels like a lifetime since my last (the Welsh in November) and like yesterday at the same time.
The venue itself was easy enough to find – and no arguments with doors! Fascinatingly, the sports complex is like a maze over two floors!
Unfazed – I've begun to find this initial part of a previously un-entered competition almost a calming 'ritual' now – I use it as part of the adrenaline-build. The organisers were absolutely fantastic, one of them extremely kindly walked me round the entire venue, showing me all the halls I may be fencing in and giving me time to make all-important landmarks with colours, numbers of steps, counting doors etc.
Playlist firmly plugged into ears in a relatively deserted hall, both myself and a close friend simultaneously warm up. Unspoken language between me not 'seeing' and neither of us hearing over headphones, superstitions, rituals and thought processes begin. And of course the dark chocolate, for me at least!
It's fluent this time, no waiting and before I could think about last minute tape or where the Allen key is I'm plugged in. Weirdly, the first time I've not had nerves and actually found myself wanting, needing more adrenaline. Although in some ways an advantage, the measured aggression needed just wouldn't materialise.
The poules flew – overall, I achieved more in points than the Bristol Open which was a similar level event, but for my personal standards and aims I was pretty unsatisfied with my fencing and determined to give the DE my all. And did!
No medals this time again, but achieving a point more than at Bristol was something to take home. Along with a wealth of experience than can only be gained from doing.
Within 24 hours of being home, I've stuck to my promise to myself and between a mixture of the "what an Earth am I doing??!" and the "just do it!" I've entered the British National Championships this April and as I waited for the page to load with the foil entries, even just seeing my name there gave me butterflies!
So, next stop, London 16/04/16.